About us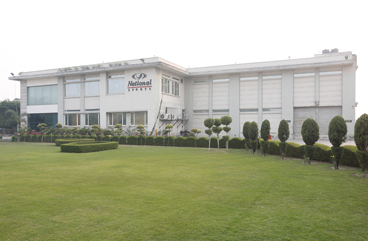 Profile
National Sports is a leading name in the Indian sports goods manufacturing industry. And with a rich experience of 62 years, we have carved a niche for ourselves in the global sports goods market. Today, based on our experience, R&D, infrastructure and human resources, we have been successfully exporting our products to 80 countries across the globe and our clients include some of the most reputed brands.
We are based in Meerut which is 60 kms from New Delhi Capital of India, Our 3 factories spread in 25000sq yards cover around 200000 sqft production area. Our motto is quality at the right price, to achieve this we have all the necessary machines related to Welding, Lathe, Precision grinding, surfacing, Stitching, Plastic Molding & Extrusion, Powder coating installed in house.
We manufactures more the 1200 Sports products for Athletics, speed training, speed and agility, soccer Basketball, swimming, Training Wear, Field markers, water bottles, Goalpost ,sports Bags, Carrom Gymnastics, Tennis, Rugby, Baseball, football, training accessories, football accessories etc
our History
ISO certified company
While, we are an ISO 9001: 2008 certified company, following Total Quality Management (TQM) in our entire operations, the majority of our products have been approved by IAAF (International Association of Athletic Federation) and have the CE marking for safety.We are among leading exporters from India & were awarded by govt. of India awards for highest export of Sports Accessories from India. Our D-U-N-S number is 65-023-9254 & are rated as SE2A company by D&B..
Fairs and Exhibition
we have been actively participating in various trade fairs and exhibitions organized in different countries across the globe. This has not only helped us to display our innovative range of products but prove our potential at international platform.We have been the part of following trade fair and exhibitions.

Customization
We are an organization fully committed towards providing our worldwide clients with maximum satisfaction by offering them products as per their specifications. Our dexterous team works in close coordination with our clients to thoroughly understand their requirements and develop the products accordingly.
what we offer
Infrastructure.
Located at Meerut, our state-of-the art infrastructure is spread over sprawling area of 36,000 sq. ft. The infrastructural unit has been broadly divided into two functional units -sports complex and Industrial estate. These units are backed by highly experienced workforce and latest technology capable of meeting all the requirements of the clients with precision. Our development managers and engineers evolve innovative design concepts creating a benchmark the industry in the field of sports goods
Moreover, we consistently upgrade our technologies in order to meet the ever-changing requirement of the global customers.
Net Interlock Machines
Shapers
Milling
Surface Grinder
Spinning Lathes
Mig Welding
Spot Welding
Pad Printing
Hydraulic Machine
Plastic Molding Machine
Plastic Extruding Machine
Injection Molding Machine
Blow Molding Machine
Chairman's Desk